ASL Handshapes
This page provides a side-by-side comparison of handshape representations in both ASCII-based and symbol-based writing systems for ASL.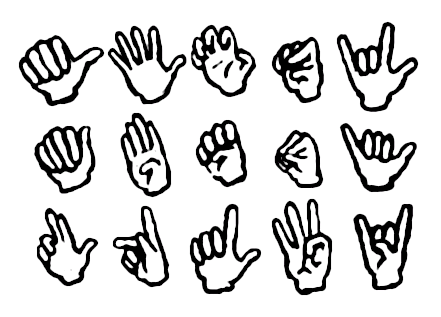 Handshape is only one of the five components that make up any ASL sign.
Different signed languages use different sets of handshapes. Some of the writing systems below are designed for use with any signed language, and attempt to represent every variation necessary to support the handshapes used by each language.
Some systems group similar handshapes together and represent them as a single symbol for readability and simplicity. Other systems try to provide a way to represent small variations in handshape with precision and detail.
Researchers have determined that 7 basic handshapes tend to be used in signed languages around the world:

a 1 5 B c o s

. These handshapes are called the unmarked handshapes, and all other handshapes are called marked handshapes.
Estimates of the number of distinct handshapes used in ASL vary from 30 to 80. This page lists the 51 ASL handshapes included in Symbol Font For ASL.
The tables below show the equivalent symbol or code for each handshape under each writing system. If a writing system does not account for the handshape, I have listed either the most similar handshape available, or an attempt to approximate the handshape using that system's rules for representing arbitrary handshapes (where possible).
Abbreviations Used
SN

ISWA

HNS

SF

ASLP

ASLO

si5s

SLIPA

ASLSJ

SS
Symbol Comparison Table
Writing System:
SN
ISWA*
HNS*
SF
ASLP
ASLO
si5s
SLIPA*
ASLSJ
SS
This page
Approx. Number of
Handhapes Provided:
45+
255
200+
125+
22
46+
65+
54+
59+
46
51
* These systems are specifically designed to accommodate handshapes for other signed languages that aren't needed in ASL. In SignWriting, about 83 handshapes are used for writing ASL.
Handshape
Gloss
SN
ISWA
HNS
SF
ASLP
ASLO
si5s
SLIPA
ASLSJ
SS
1
1
G
󽠰

d

1
1
G
lh
1
d
D
G
󽠱

dQ

D
d
D
d
d
l
L
L
󽤌

dP

L
l
L
le
l
X
Bent-X
X
󽠺

ÃR

XC
X
X<
xh
x
x
X
X
󽠶

dR

X
x
X
xh
x
L
Bent-L
X`
󽤑

dT

XL
L
L>
lb
L
G
Open-G
Small-C
L"
󽤝

cQ

GC
G
C'
xe
L
T
Small-O
L#
󽤚

aQ

AG

L}
xc
f
t
T
T
󽤫

t

T
t
T
t
t
g
G
G
󽤠

g

G
g
L}
lb
g
F
Closed-G
G#
󽤤

gQ

GO
F
G}
xc
f
f
F
F
󽣾

fQ

F
f
F
fh
9
| Handshape | Gloss | SN | ISWA | HNS | SF | ASLP | ASLO | si5s | SLIPA | ASLSJ | SS |
| --- | --- | --- | --- | --- | --- | --- | --- | --- | --- | --- | --- |
| v | V | V | 󽠾 |  | u |  | V | v | V | vh | 2 |
| 3 | 3 | 3 | 󽡎 |  | uP |  | 3 | 3 | 3 | v | 3 |
| V | Bent-V | V" | 󽡀 |  | uR |  | VC | V | V> | vhb | @ |
| W | Bent-3 | 3" | 󽡑 |  | uT |  | 3C | W | 3> | vb | 3 |
| u | U | H | 󽡅 |  | h |  | U | u | U | uh | h |
| H | 13 | U` | 󽡝 |  | hP |  | UL | H | U: | u | h |
| U | Bent-U | H" | 󽡈 |  | hR |  | UC | U | U> | ub | h |
| N | Flat-N | H# | 󽡯 |  | hQS |  | NO | N | N | nc | h |
| n | N | H# | 󽡉 |  | hS |  | N | n | N | n | n |
| k | K | K | 󽡰 |  | k |  | K | k | K | k | k |
| K | 23 | K` | 󽡔 |  | kP |  | KL | K | K{ | ke | k |
| r | R | R | 󽡊 |  | r |  | R | r | R | rh | r |
| R | Open-R | R` | 󽡣 |  | rP |  | RL | R | R{ | re | r |
Handshape
Gloss
SN
ISWA
HNS
SF
ASLP
ASLO
si5s
SLIPA
ASLSJ
SS
4
4
W`
󽡴

n

4
4
4
e
4
5
5
5
󽡼

p

5
5
5
c
5
E
Bent-4
E
󽡵

nR

4C
E
4>
eb
%
S
Bent-5
Claw
E
󽢄

pR

5C
S
C)
cb
%
Q
Flat-5
5
󽢇

pS

5G
Q
5}
c
5
b
B
B
󽡷

bQ

B
b
B
bh
b
B
Open-B
B`
󽢍

bP

BL
B
B\
b
b
c
C
C
󽢝

c

C
c
C
ch
c
C
Open-C
C`
󽢟

bT

CL
C
B\}
beb
b
M
Bent-B
B"
󽢰

bU

OL
M
B\}
beb
b
| Handshape | Gloss | SN | ISWA | HNS | SF | ASLP | ASLO | si5s | SLIPA | ASLSJ | SS |
| --- | --- | --- | --- | --- | --- | --- | --- | --- | --- | --- | --- |
| o | O | O | 󽢦 |  | o |  | OE | o | O | o | 0 |
| O | Flat-O | O | 󽢵 |  | oS |  | O | O | O< | o | 0 |
| e | E | E | 󽡺 |  | e |  | E | e | E | eh | e |
| s | S | S | 󽤳 |  | s |  | S | s | S | s | s |
| a | A | A | 󽤧 |  | a |  | A | a | A | ah | a |
| A | Open-A | A` | 󽤥 |  | aP |  | AL | A | A< | a | a |
| Handshape | Gloss | SN | ISWA | HNS | SF | ASLP | ASLO | si5s | SLIPA | ASLSJ | SS |
| --- | --- | --- | --- | --- | --- | --- | --- | --- | --- | --- | --- |
| w | W | W | 󽢶 |  | f |  | W | w | W | wh | 6 |
| m | M | W" | 󽢽 |  | bQR |  | M | m | M | m | m |
| 7 | 7 | 7 | 󽣔 |  | uV |  | 7 | 7 | 7 | hh | 7 |
| 8 | 8 | 8# | 󽣫 |  | q |  | 8 | 8 | 8 | qh | 8 |
| D | Open-8 | 8 | 󽣱 |  | qZ |  | 8G | D | 8< | qb | 8 |
| P | 25 | 8` | 󽣵 |  | qP |  | 8L | P | 8{ | q | * |
| I | 1-I | Y2 | 󽣐 |  | dV |  | 78 | I | Y^ | ie | v |
| Y | L-I | Y2` | 󽣌 |  | jP |  | IL | Y | Y: | ye | z |
| i | I | I | 󽣂 |  | i |  | I | i | I | i | i |
| y | Y | Y | 󽣊 |  | iP |  | Y | y | Y | y | y |